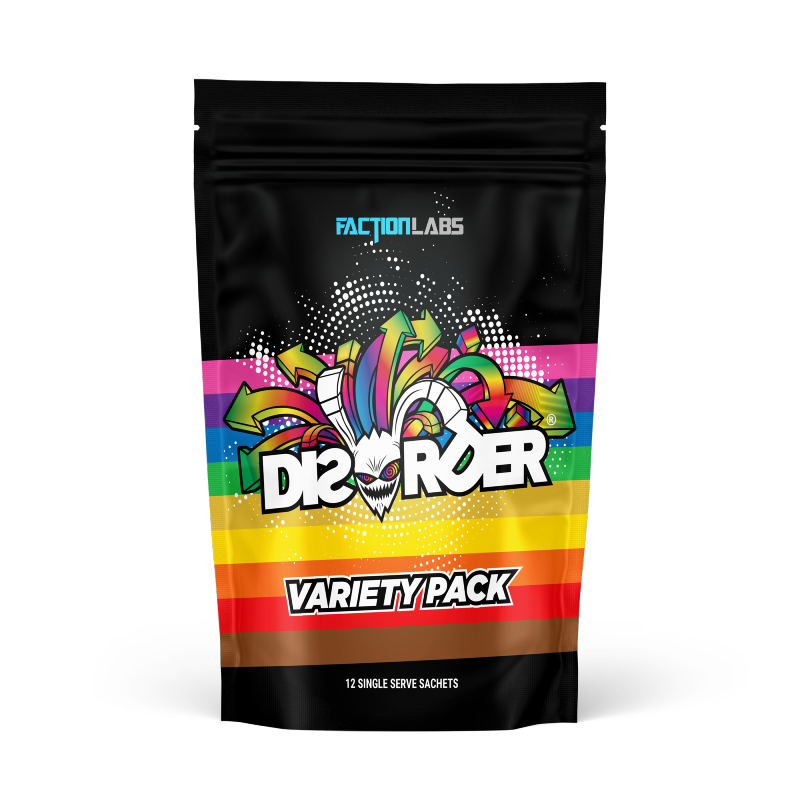 Description

Nutritional Information

Directions of Use

Disclaimer
Faction Labs Disorder Pre-Workout
Faction labs has designed this vicious formula to not just give you the stimulation you need, but it also provides with a tenacious pump to keep your blood flow optimum. With plenty of flavours to keep your body guessing, Disorder pre-workout can now be your one-stop shop for powdered motivation.

250mg caffeine per serving.
Extreme energy & sharp focus.
More strength & pumps.
Delicious Flavours - Keep your eyes peeled for limited flavour drops!
Caffeine is still so hard to look past when we are talking about stimulants. It is natural, can promote fat burning and is a well-proven stimulant that is the leading ingredient in all stimulants around the world. Studies have shown that consuming caffeine before an exercise can improve tolerance for pain caused by exercise, increase alertness, sharpen focus, help burn fat, improve mood, and help active people push through longer sessions.
Another important ingredient in Faction Labs Disorder Pre-Workout is L-Citrulline Malate which has been added to this formula to promote nitric oxide metabolism. Nitric oxide is a vasodilator, which means it relaxes the inner muscles of your blood vessels causing them to open up and allow increased blood flow and lower blood pressure. Together with beta-alanine, citrulline allows your body progressive and precise results so you don't over-train your body. Beta-alanine in Faction Labs Disorder Pre-Workout is a nonessential amino acid that enhances performance and benefits overall health. Furthermore, it elevates carnosine levels which reduce the acidity in your muscles during high-intensity exercise.
Together with many other powerful, energy-boosting ingredients, the unique formula of Faction Labs Disorder Pre-Workout will give you crazy pumps so you can fuel your workout to the max! If you're looking for the extra push to get you going, this pre-workout is for you. Stay focused, motivated, strong and energised to support your body throughout a full-on gym session—with Faction Labs Disorder Pre-Workout. Boost your overall performance and try it today!
Faction Labs Disorder Pre workout comes in these amazing flavours:

Brown Sugar:

 Caramel Peach Iced Tea 

Pink Bits: Strawberry Creme Sprite 
Red Russian: Red Raspberry    
Green Haze: Passionfruit
Blue Pearl: Candy Bomb
Purple Reign: Watermelon
Yellow Fever: Pine Lime
Rainbow Warrior: Bubblegum Ice Cream
Orange Firm: Orange Mango
Black Fire: Juicy Grape
White Snow: Vanilla Cola
Golden Shower: Lemon Tang
(Based on Red Russian flavour)
Mix 1-2 scoops of Disorder with 200-400ml of cold water and consume 30 minutes before training.
Do not consume more than 2 scoops in a 24hr period.
This product is not a sole source of nutrition and should be consumed in conjunction with a nutritious diet and an appropriate training or exercise program. Not suitable for children under 15 years of age or pregnant women: Should only be used under medical or dietetic supervision. Contains caffeine and is not recommended for children, pregnant or lactating women, or individuals sensitive to caffeine.
Always read the label. Follow directions of use. Please read the label to decide whether this product is right for you.

Consult with your relevant healthcare professional before taking supplements or vitamins, especially if you are currently taking medication. If symptoms transpire and persist, seek immediate advice from your relevant healthcare professional.

If pregnant, planning pregnancy, or breastfeeding, consult with your healthcare professional before using any health foods, functional foods, supplements or vitamins.

Supplements and vitamins should not be used by persons under the age of 16, unless the product is specifically designed for children or otherwise advised on by your healthcare professional.

Supplements, vitamins and minerals should never replace a balanced and varied diet.

Keep all supplements and vitamins out of reach of children. Always follow advised storage conditions and consumption instructions.

Do not exceed recommended daily dosage. Do not consume products if seals are broken or damaged. Do not consume products if best before or expiry dates have exceeded.

Some powdered products, including (but are not limited to) pre-workout, fat burners, single amino acids, pump/nitric oxide boosters, citrulline, agmatine, arginine and carnitine are naturally deliquescent products, or contain ingredients which are naturally deliquescent. Clumping or hardening of these products over time is a natural and common occurrence, and despite containing moisture absorption sachets, these products may still clump or harden over time.

Although extra care is taken to ensure all product Descriptive Information, Nutritional Information and Directions Of Use are kept up-to-date and current, manufacturers and suppliers may change product formulations and ingredients without warning, and may not advise of us these changes. Please ensure Supplement Mart endeavors to keep products updated with the latest and correct product information which the manufacturer or supplier has directly provided us.

If you are purchasing items which are prone to melting (including but not limited to, chocolate bars, protein bars, items with chocolate chips or pieces etc), or items which can easily be damaged (including but not limited to, chips, aluminum cans, glass vitamins etc), we strongly recommend you purchase Shipping Insurance with your order. Supplement Mart takes no responsibility for items which are melted or damaged in transit, and we do not replace or refund any items which are damaged under these circumstances if they are not covered by Shipping Insurance. You can purchase Shipping Insurance at the cart/checkout page with your order.

We also strongly recommend to not authorize "Authority to Leave" on your order if it contains items which can melt, due to the risk of these items being left in an unsuitably warm and sunny position by the courier.

Purchase of clearance and special items is final, we do not offer exchanges or refunds on these items.