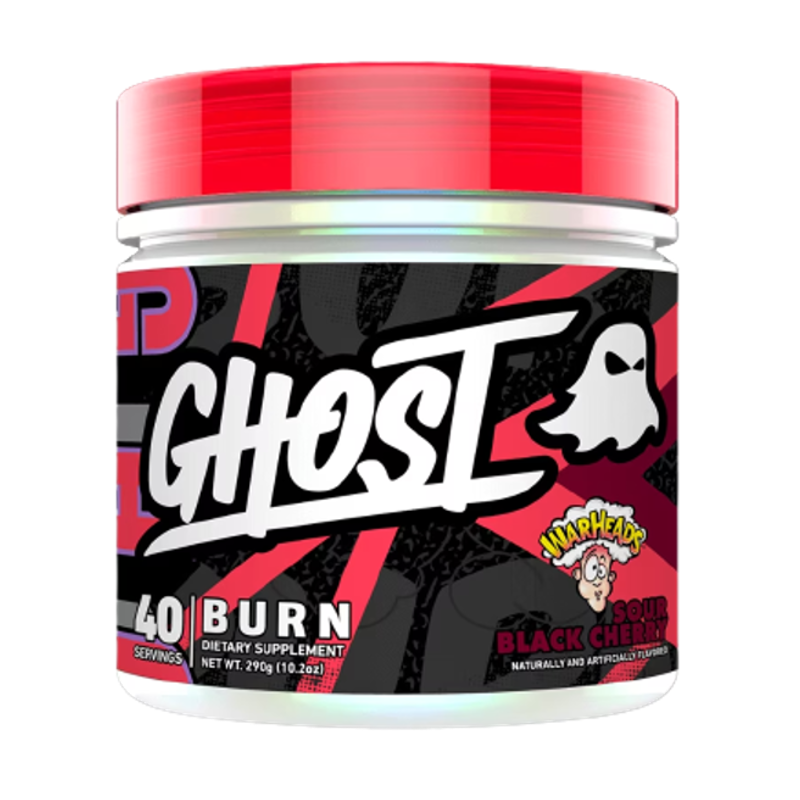 Burn Black Label by Ghost
Description

Nutritional Information

Directions of Use

Disclaimer
Ghost Lifestyle Burn Black Label
Kickstart your burn and blast through your workouts with ease, featuring Ghost Burn Black. Ultimate dosages combined with effective science-backed ingredients mean that Ghost Burn Black sees the next evolution in your favourite thermogenic design. Ghost Burn Black's key ingredient is L-carnitine, which helps assist and support total fat reduction and energy metabolism while enhancing performance and mental well-being, with two potent forms of carnitine available: Carnitine L-Tartrate and Acetyl-L-Carnitine (ALCAR). Carnitine is a necessary component for muscular function, but ALCAR is more beneficial in the brain. The combination implies an improvement in both the mental and physical aspects of your training.  Ghost Burn Black is the ultimate thermogenic blend to help you boost your daily burn, combining the very best dosages of scientifically backed to give you a formula that gives you:
Anti-fatigue.

Powerful caffeine hit.

Aids healthy metabolism.
Ghost Burn Black also includes highly popular Grains of Paradise. This is a combination of seed extracts that provide numerous advantages. These include better absorption of other nutrients, notably brown fat activation, and overall energy output assistance. Another step closer to burning more calories! Ghost Burn Black also fuels you using Natural Caffeine, this is a classic energy and wakefulness compound. Not only that, but it changes the way your muscles work, improves your ability to push through fatiguing exercise, keeps you mentally sharp, and even increases NET calorie burn on a day-to-day basis. Overall, Ghost Burn Black is an excellent choice for anyone who wants to take their workouts to the next level. With its powerful energy-boosting, fat-burning, and cognitive-enhancing properties, it is the ultimate pre-workout for serious athletes and fitness enthusiasts alike.
(Based on Pineapple flavour)
Mix 1 scoop into 150ml - 300ml of chilled water or beverage of choice. 

Advanced users can mix 2 scoops into 295ml - 355ml chilled water or favourite beverage.

Do not exceed 2 scoops per day.

Do not consume within a few hours of bedtime.
Always read the label. Follow directions of use. Please read the label to decide whether this product is right for you.

Consult with your relevant healthcare professional before taking supplements or vitamins, especially if you are currently taking medication. If symptoms transpire and persist, seek immediate advice from your relevant healthcare professional.

If pregnant, planning pregnancy, or breastfeeding, consult with your healthcare professional before using any health foods, functional foods, supplements or vitamins.

Supplements and vitamins should not be used by persons under the age of 16, unless the product is specifically designed for children or otherwise advised on by your healthcare professional.

Supplements, vitamins and minerals should never replace a balanced and varied diet.

Keep all supplements and vitamins out of reach of children. Always follow advised storage conditions and consumption instructions.

Do not exceed recommended daily dosage. Do not consume products if seals are broken or damaged. Do not consume products if best before or expiry dates have exceeded.

Some powdered products, including (but are not limited to) pre-workout, fat burners, single amino acids, pump/nitric oxide boosters, citrulline, agmatine, arginine and carnitine are naturally deliquescent products, or contain ingredients which are naturally deliquescent. Clumping or hardening of these products over time is a natural and common occurrence, and despite containing moisture absorption sachets, these products may still clump or harden over time.

Although extra care is taken to ensure all product Descriptive Information, Nutritional Information and Directions Of Use are kept up-to-date and current, manufacturers and suppliers may change product formulations and ingredients without warning, and may not advise of us these changes. Please ensure Supplement Mart endeavors to keep products updated with the latest and correct product information which the manufacturer or supplier has directly provided us.

If you are purchasing items which are prone to melting (including but not limited to, chocolate bars, protein bars, items with chocolate chips or pieces etc), or items which can easily be damaged (including but not limited to, chips, aluminum cans, glass vitamins etc), we strongly recommend you purchase Shipping Insurance with your order. Supplement Mart takes no responsibility for items which are melted or damaged in transit, and we do not replace or refund any items which are damaged under these circumstances if they are not covered by Shipping Insurance. You can purchase Shipping Insurance at the cart/checkout page with your order.

We also strongly recommend to not authorize "Authority to Leave" on your order if it contains items which can melt, due to the risk of these items being left in an unsuitably warm and sunny position by the courier.

Purchase of clearance and special items is final, we do not offer exchanges or refunds on these items.