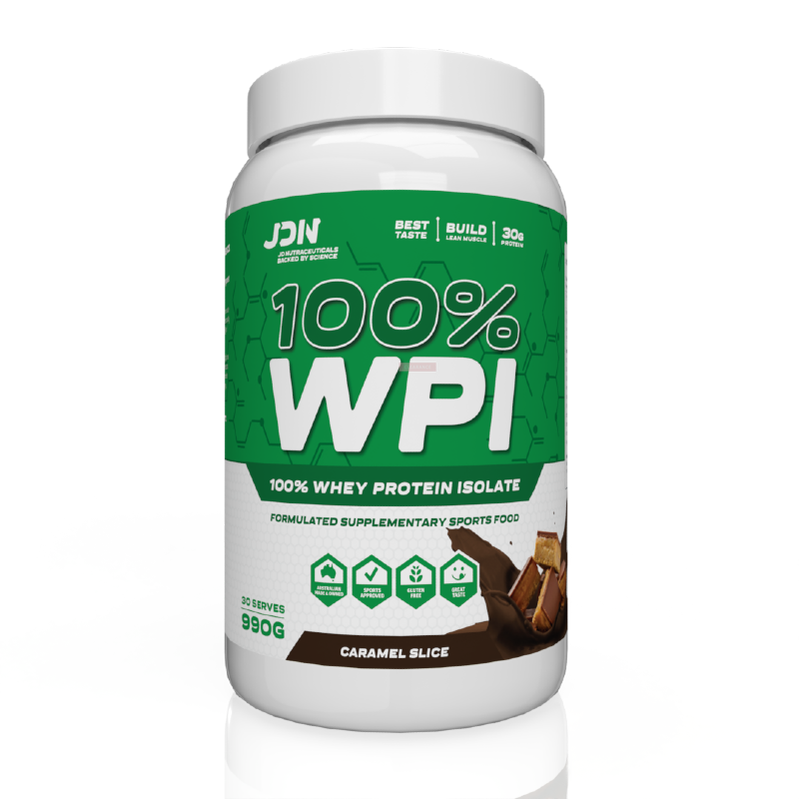 Description

Nutritional Information

Directions of Use

Disclaimer
JD Nutraceuticals WPI
*** Clearance special - reduced! Whilst stocks last ***
JDN Nutraceuticals WPI is a top-of-the-range, premium whey protein isolate derived from the cleanest dairy sources and micro-filtered to ensure you receive a WPI of the highest quality. Designed with your goals in mind, JDN WPI can help you build muscle, improve recovery and hit your macro needs. 100% WPI contains no added fillers or chemicals meaning it is easy to digest and immediately available for the body's protein needs.
Enjoy a delicious tasting whey protein shake that is high in protein, low in fat and carbs and is one of the most effective and cleanest WPIs on the market today. With each serve of JD Nutraceuticals WPI you can expect:
A substantial 30g protein per serve

Ultra-low in fat and carbs

Proven to increase muscle growth

Fuels muscle repair and recovery

Australian owned and operated
Whey Protein Isolate is the purest form of whey and the primary ingredient in JD Nutraceuticals 100% WPI. This WPI breaks down quickly, so it's immediately available to fuel training sessions or be put to work repairing muscle fibres. Available in 6 mouth-watering flavours that mix well with your beverage of choice: Caramel Slice, Choc Popcorn, Dreamy Vanilla, Milk Chocolate Brownie, Vanilla Popcorn and White Chocolate Raspberry
Flood your muscles with nutrients and recover as fast as possible with JDN 100% WPI - pure, fastest-acting whey protein. Ideal for gym-goers and athletes who want to build lean muscle and increase their daily protein intake. Made with the highest quality WPI and zero fillers, this protein contains up to 7g of BCAAs per serving, which is essential for pre and post-workout recovery.
If you're looking for the best, cleanest WPI you've found it in JD Nutraceuticals WPI.
Add 1 scoop (33g) of JD Nutraceuticals 100% Whey Protein Isolate to 150-250ml of ice cold water, milk or beverage of your choice.
Shake for approximately 5 seconds and drink.
Use 1 serving 60-90 minutes prior to exercise, followed by 1 serving immediately upon completion of exercise.
Use 2-4 servings of 100% Whey Protein Isolate daily.
Always read the label. Follow directions of use. Please read the label to decide whether this product is right for you.

Consult with your relevant healthcare professional before taking supplements or vitamins, especially if you are currently taking medication. If symptoms transpire and persist, seek immediate advice from your relevant healthcare professional.

If pregnant, planning pregnancy, or breastfeeding, consult with your healthcare professional before using any health foods, functional foods, supplements or vitamins.

Supplements and vitamins should not be used by persons under the age of 16, unless the product is specifically designed for children or otherwise advised on by your healthcare professional.

Supplements, vitamins and minerals should never replace a balanced and varied diet.

Keep all supplements and vitamins out of reach of children. Always follow advised storage conditions and consumption instructions.

Do not exceed recommended daily dosage. Do not consume products if seals are broken or damaged. Do not consume products if best before or expiry dates have exceeded.

Some powdered products, including (but are not limited to) pre-workout, fat burners, single amino acids, pump/nitric oxide boosters, citrulline, agmatine, arginine and carnitine are naturally deliquescent products, or contain ingredients which are naturally deliquescent. Clumping or hardening of these products over time is a natural and common occurrence, and despite containing moisture absorption sachets, these products may still clump or harden over time.

Although extra care is taken to ensure all product Descriptive Information, Nutritional Information and Directions Of Use are kept up-to-date and current, manufacturers and suppliers may change product formulations and ingredients without warning, and may not advise of us these changes. Please ensure Supplement Mart endeavors to keep products updated with the latest and correct product information which the manufacturer or supplier has directly provided us.

If you are purchasing items which are prone to melting (including but not limited to, chocolate bars, protein bars, items with chocolate chips or pieces etc), or items which can easily be damaged (including but not limited to, chips, aluminum cans, glass vitamins etc), we strongly recommend you purchase Shipping Insurance with your order. Supplement Mart takes no responsibility for items which are melted or damaged in transit, and we do not replace or refund any items which are damaged under these circumstances if they are not covered by Shipping Insurance. You can purchase Shipping Insurance at the cart/checkout page with your order.

We also strongly recommend to not authorize "Authority to Leave" on your order if it contains items which can melt, due to the risk of these items being left in an unsuitably warm and sunny position by the courier.

Purchase of clearance and special items is final, we do not offer exchanges or refunds on these items.