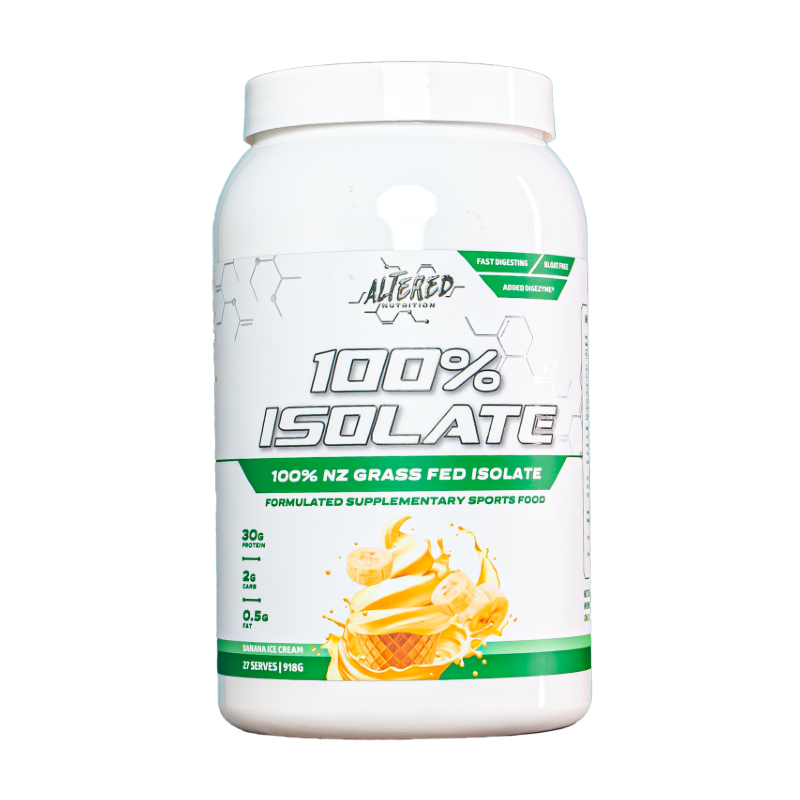 100% Isolate by Altered Nutrition
Description

Nutritional Information

Directions of Use

Disclaimer
Altered Nutrition 100% Isolate
Discover the pinnacle of protein excellence with 100% Isolate by Altered Nutrition. Our commitment to quality is unparalleled, as we bring you the finest grass-fed Whey Protein Isolate sourced from the pristine pastures of New Zealand. Your quest for optimal protein intake ends here. With a remarkable 30g of protein in every serving, this Whey Protein Isolate is a market leader, ensuring your body receives the essential building blocks it craves. Fast-absorbing and gentle on your digestive system, it's ideal for both pre and post-workout consumption, or simply to supplement your daily protein needs. Altered Nutrition's 100% Isolate comes fresh off the press to really support you and your progress regardless of what phase you're in featuring:
A market-leading 30g of protein per serving!

Less than 2g of Carbs and 1g of fat per serve!

More than 13g EAA's per serve!

More than 6g BCAA per serve!
In addition to its exceptional protein content, 100% Isolate is impressively low in carbohydrates (less than 2g) and fats (just 1g) per serving. Moreover, it boasts an impressive amino acid profile, with over 13g of essential amino acids and more than 6g of BCAAs per serving. The inclusion of 50mg of Digezyme enhances digestibility, making it a wise choice for those with sensitive stomachs. Altered Nutrition's 100% Isolate is not only about science; it's about taste. Indulge your senses with our industry-leading flavours, available in four delectable options. When you prioritize quality in your nutrition, you can trust Altered Nutrition to deliver on its promises.
Add one scoop of Altered Nutritions 100% Whey Isolate to 150 - 250ml of iced cold water, milk or beverage of your choice.

Shake for approximately 5 seconds and drink.

 

Use 1 serving 60 - 90 mins prior to exercise, followed by one serving prior.
Use 2 - 4 servings daily.
Always read the label. Follow directions of use. Please read the label to decide whether this product is right for you.

Consult with your relevant healthcare professional before taking supplements or vitamins, especially if you are currently taking medication. If symptoms transpire and persist, seek immediate advice from your relevant healthcare professional.

If pregnant, planning pregnancy, or breastfeeding, consult with your healthcare professional before using any health foods, functional foods, supplements or vitamins.

Supplements and vitamins should not be used by persons under the age of 16, unless the product is specifically designed for children or otherwise advised on by your healthcare professional.

Supplements, vitamins and minerals should never replace a balanced and varied diet.

Keep all supplements and vitamins out of reach of children. Always follow advised storage conditions and consumption instructions.

Do not exceed recommended daily dosage. Do not consume products if seals are broken or damaged. Do not consume products if best before or expiry dates have exceeded.

Some powdered products, including (but are not limited to) pre-workout, fat burners, single amino acids, pump/nitric oxide boosters, citrulline, agmatine, arginine and carnitine are naturally deliquescent products, or contain ingredients which are naturally deliquescent. Clumping or hardening of these products over time is a natural and common occurrence, and despite containing moisture absorption sachets, these products may still clump or harden over time.

Although extra care is taken to ensure all product Descriptive Information, Nutritional Information and Directions Of Use are kept up-to-date and current, manufacturers and suppliers may change product formulations and ingredients without warning, and may not advise of us these changes. Please ensure Supplement Mart endeavors to keep products updated with the latest and correct product information which the manufacturer or supplier has directly provided us.

If you are purchasing items which are prone to melting (including but not limited to, chocolate bars, protein bars, items with chocolate chips or pieces etc), or items which can easily be damaged (including but not limited to, chips, aluminum cans, glass vitamins etc), we strongly recommend you purchase Shipping Insurance with your order. Supplement Mart takes no responsibility for items which are melted or damaged in transit, and we do not replace or refund any items which are damaged under these circumstances if they are not covered by Shipping Insurance. You can purchase Shipping Insurance at the cart/checkout page with your order.

We also strongly recommend to not authorize "Authority to Leave" on your order if it contains items which can melt, due to the risk of these items being left in an unsuitably warm and sunny position by the courier.

Purchase of clearance and special items is final, we do not offer exchanges or refunds on these items.