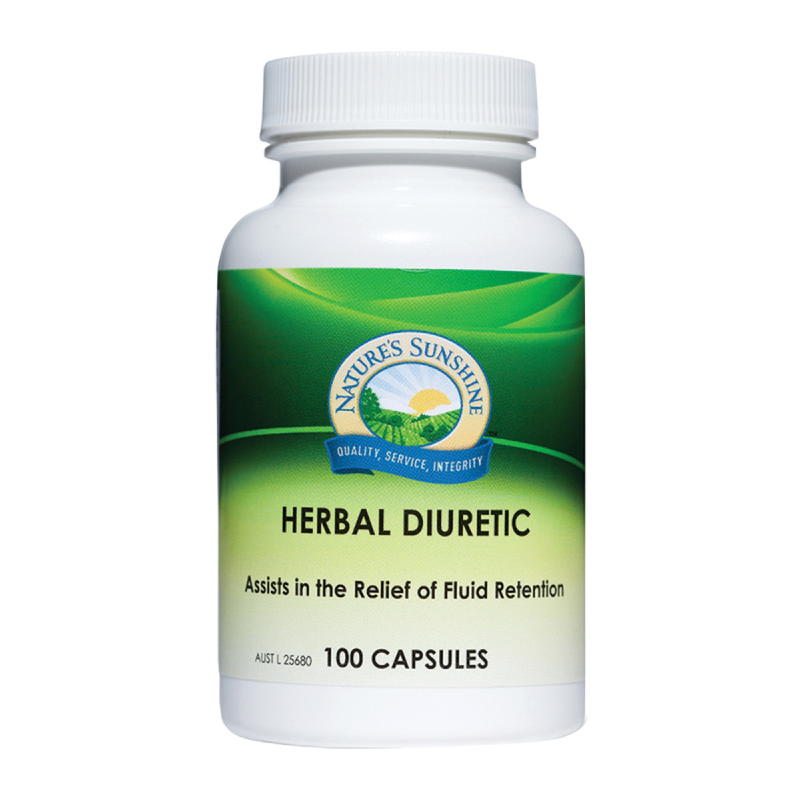 Herbal Diuretic by Natures Sunshine
Description

Nutritional Information

Directions of Use

Disclaimer
Nature's Sunshine Herbal Diuretic
*** Nature's Sunshine is re-branding - you may receive old or new packaging with your order. There has been no formulation change ***
Nature's Sunshine Herbal Diuretic assists in the temporary relief of mild fluid retention – see for yourself! This Nature's Sunshine remedy combines the power of five herbs: Juniper, Parsley, Uva Ursi, Dandelion and German chamomile. People suffering from cystitis know that it's no fun. This inflammation of the bladder can be caused by a urinary tract infection or when naturally occurring bacteria in your body become imbalanced. Some hygiene products and medicines can also cause inflammation. The combination of herbs in Nature's Sunshine Herbal Diuretic increase your urine output, relieve mild fluid retention and decrease the symptoms of medically diagnosed cystitis for improved quality of life.
Increase

s

urine output.
Temporarily relieve

s

mild fluid retention.
Relieve

s

symptoms of medically diagnosed cystitis.

With five powerful herbs.
Due to its high amount of nutrients and powerful plant compounds, Juniper plays a very important part in this herbal remedy. It acts as a strong antioxidant, protecting your cells from damage caused by free radicals. It is also rich in essential oils and flavonoids that function as potent antioxidants and may help reduce inflammation of the bladder. Juniper's powerful antibacterial and antifungal properties have shown positive effects against 16 species of bacteria, yeasts, yeast-like fungi, and dermatophytes. Another very important ingredient in this herbal combination is Parsley. It contains flavonoids that act as antioxidants of the body and is known to be and immune-enhancing multivitamin and mineral complex in the form of a plant. Another key ingredient is Uva Ursi, which works by reducing the bacteria in the urine. Its infection-fighting properties come from several of the plant's natural chemicals, including hydroquinone and arbutin. Simply take two Nature's Sunshine Herbal Diuretic capsules twice daily with a meal, or as professionally prescribed. This supplement is free from Gluten, lactose, soy, starch, sugars or salt, wheat products, artificial colourings, flavourings or preservatives.
Each capsule contains:
Juniperis communis

 

(Juniper) berries: 104mg.

Petroselinum crispum (Parsley) leaf: 98mg.
Arctostaphylos uva-ursi (Uva ursi) leaf: 82mg.
Taraxacum officinale (Dandelion) root: 76mg.
Matricaria chamomilla (German chamomile) flower: 55mg.
No added yeast, lactose, soy, starch, sugars or salt, wheat products, artificial colourings and flavourings, or preservatives.
Adults: Take two capsules twice daily with a meal, or as professionally prescribed.
Not recommended for use during pregnancy or lactation. Take two hours away from all prescription medications. Always read the label if symptoms persist contact your health care practitioner. If fluid retention persists, consult your healthcare practitioner. If pain or irritation persists for more than 48 hours, consult your doctor. The presence of blood in the urine warrants immediate medical attention.
Always read the label. Follow directions of use. Please read the label to decide whether this product is right for you.

Consult with your relevant healthcare professional before taking supplements or vitamins, especially if you are currently taking medication. If symptoms transpire and persist, seek immediate advice from your relevant healthcare professional.

If pregnant, planning pregnancy, or breastfeeding, consult with your healthcare professional before using any health foods, functional foods, supplements or vitamins.

Supplements and vitamins should not be used by persons under the age of 16, unless the product is specifically designed for children or otherwise advised on by your healthcare professional.

Supplements, vitamins and minerals should never replace a balanced and varied diet.

Keep all supplements and vitamins out of reach of children. Always follow advised storage conditions and consumption instructions.

Do not exceed recommended daily dosage. Do not consume products if seals are broken or damaged. Do not consume products if best before or expiry dates have exceeded.

Some powdered products, including (but are not limited to) pre-workout, fat burners, single amino acids, pump/nitric oxide boosters, citrulline, agmatine, arginine and carnitine are naturally deliquescent products, or contain ingredients which are naturally deliquescent. Clumping or hardening of these products over time is a natural and common occurrence, and despite containing moisture absorption sachets, these products may still clump or harden over time.

Although extra care is taken to ensure all product Descriptive Information, Nutritional Information and Directions Of Use are kept up-to-date and current, manufacturers and suppliers may change product formulations and ingredients without warning, and may not advise of us these changes. Please ensure Supplement Mart endeavors to keep products updated with the latest and correct product information which the manufacturer or supplier has directly provided us.

If you are purchasing items which are prone to melting (including but not limited to, chocolate bars, protein bars, items with chocolate chips or pieces etc), or items which can easily be damaged (including but not limited to, chips, aluminum cans, glass vitamins etc), we strongly recommend you purchase Shipping Insurance with your order. Supplement Mart takes no responsibility for items which are melted or damaged in transit, and we do not replace or refund any items which are damaged under these circumstances if they are not covered by Shipping Insurance. You can purchase Shipping Insurance at the cart/checkout page with your order.

We also strongly recommend to not authorize "Authority to Leave" on your order if it contains items which can melt, due to the risk of these items being left in an unsuitably warm and sunny position by the courier.

Purchase of clearance and special items is final, we do not offer exchanges or refunds on these items.