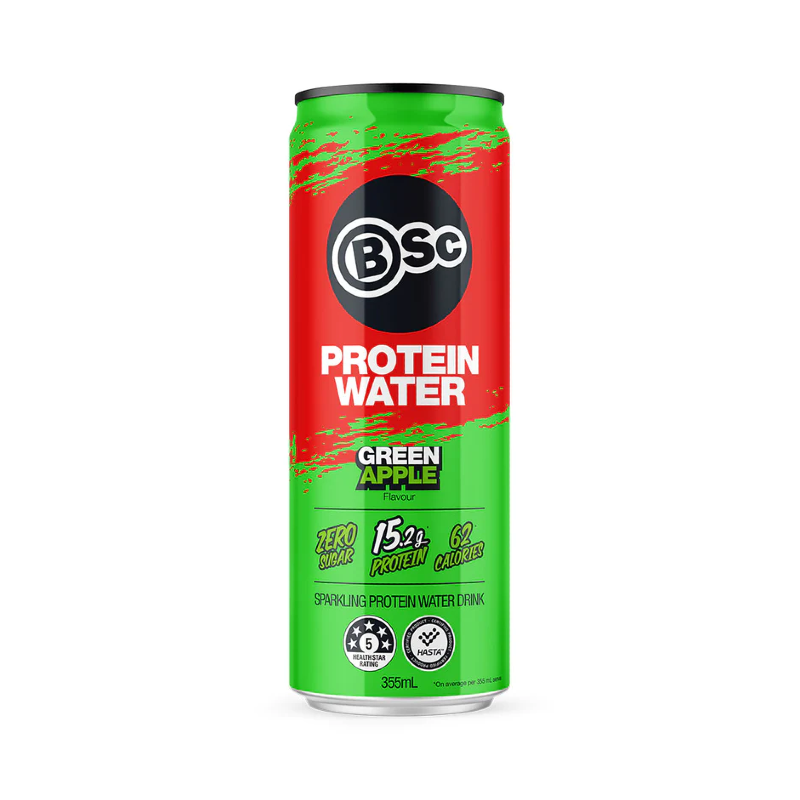 Protein Water Sparkling RTD by Body Science (BSc)
Description

Nutritional Information

Directions of Use

Disclaimer
Body Science (BSc) Protein Water Sparkling RTD
Meet the life of the party – Body Science's Protein Water Can! These cans are not just a drink; they're a celebration in every sip. Dive into the world of flavours with Strawberry Dream, a luscious blend of ripe strawberries; Green Apple, a crisp and refreshing burst; Pina Colada, a tropical escape in every can; and Musk Sticks, a nostalgic trip down memory lane. Each can is a ticket to a taste adventure that transforms hydration into a fun experience. Providing the perfect refreshing summery alternative to protein, Body Science's Sparkling Protein Water Can:
Non-milky, Sparkling Protein Water: A refreshing, dairy-free alternative to traditional protein drinks.

Low Calorie, Zero Carbs: Only 62 calories per serving, replenishing without unwanted sugars and carbs.

5 Health Star Rating: Proudly holding a 5-star rating, a testament to our commitment to your well-being.
But it's not just about the flavour fiesta – these cans bring the party without the guilt. With a robust 15.2g of protein per can, 62 calories, and a triumphant zero sugar, it's the guilt-free pleasure you've been waiting for. Whether you're shaking it up at the gym, hitting the trails, or just chilling with friends, these cans are here to add a pop of fun to your routine. Hydration has never been this playful – grab a can, crack it open, and let the good times roll! Your taste buds will thank you for the invitation to the protein-packed, flavour-filled extravaganza that is Body Science's Protein Water Can.
Post-Workout:

After an intense workout, BSc Protein Water can help with muscle recovery and replenishing protein stores.

On-the-Go Snack:

As a convenient and portable snack when you're in a hurry and need a quick source of protein.

Between Meals:

To stave off hunger and maintain energy levels, especially when you're on a calorie-restricted diet or trying to maintain muscle mass.

Hydration with Protein:

When you want to combine hydration and protein intake, making it a great choice during or after physical activities.

As a Healthy Beverage: Simply as a refreshing, low-calorie beverage choice that also provides protein for overall nutrition.
Always read the label. Follow directions of use. Please read the label to decide whether this product is right for you.

Consult with your relevant healthcare professional before taking supplements or vitamins, especially if you are currently taking medication. If symptoms transpire and persist, seek immediate advice from your relevant healthcare professional.

If pregnant, planning pregnancy, or breastfeeding, consult with your healthcare professional before using any health foods, functional foods, supplements or vitamins.

Supplements and vitamins should not be used by persons under the age of 16, unless the product is specifically designed for children or otherwise advised on by your healthcare professional.

Supplements, vitamins and minerals should never replace a balanced and varied diet.

Keep all supplements and vitamins out of reach of children. Always follow advised storage conditions and consumption instructions.

Do not exceed recommended daily dosage. Do not consume products if seals are broken or damaged. Do not consume products if best before or expiry dates have exceeded.

Some powdered products, including (but are not limited to) pre-workout, fat burners, single amino acids, pump/nitric oxide boosters, citrulline, agmatine, arginine and carnitine are naturally deliquescent products, or contain ingredients which are naturally deliquescent. Clumping or hardening of these products over time is a natural and common occurrence, and despite containing moisture absorption sachets, these products may still clump or harden over time.

Although extra care is taken to ensure all product Descriptive Information, Nutritional Information and Directions Of Use are kept up-to-date and current, manufacturers and suppliers may change product formulations and ingredients without warning, and may not advise of us these changes. Please ensure Supplement Mart endeavors to keep products updated with the latest and correct product information which the manufacturer or supplier has directly provided us.

If you are purchasing items which are prone to melting (including but not limited to, chocolate bars, protein bars, items with chocolate chips or pieces etc), or items which can easily be damaged (including but not limited to, chips, aluminum cans, glass vitamins etc), we strongly recommend you purchase Shipping Insurance with your order. Supplement Mart takes no responsibility for items which are melted or damaged in transit, and we do not replace or refund any items which are damaged under these circumstances if they are not covered by Shipping Insurance. You can purchase Shipping Insurance at the cart/checkout page with your order.

We also strongly recommend to not authorize "Authority to Leave" on your order if it contains items which can melt, due to the risk of these items being left in an unsuitably warm and sunny position by the courier.

Purchase of clearance and special items is final, we do not offer exchanges or refunds on these items.