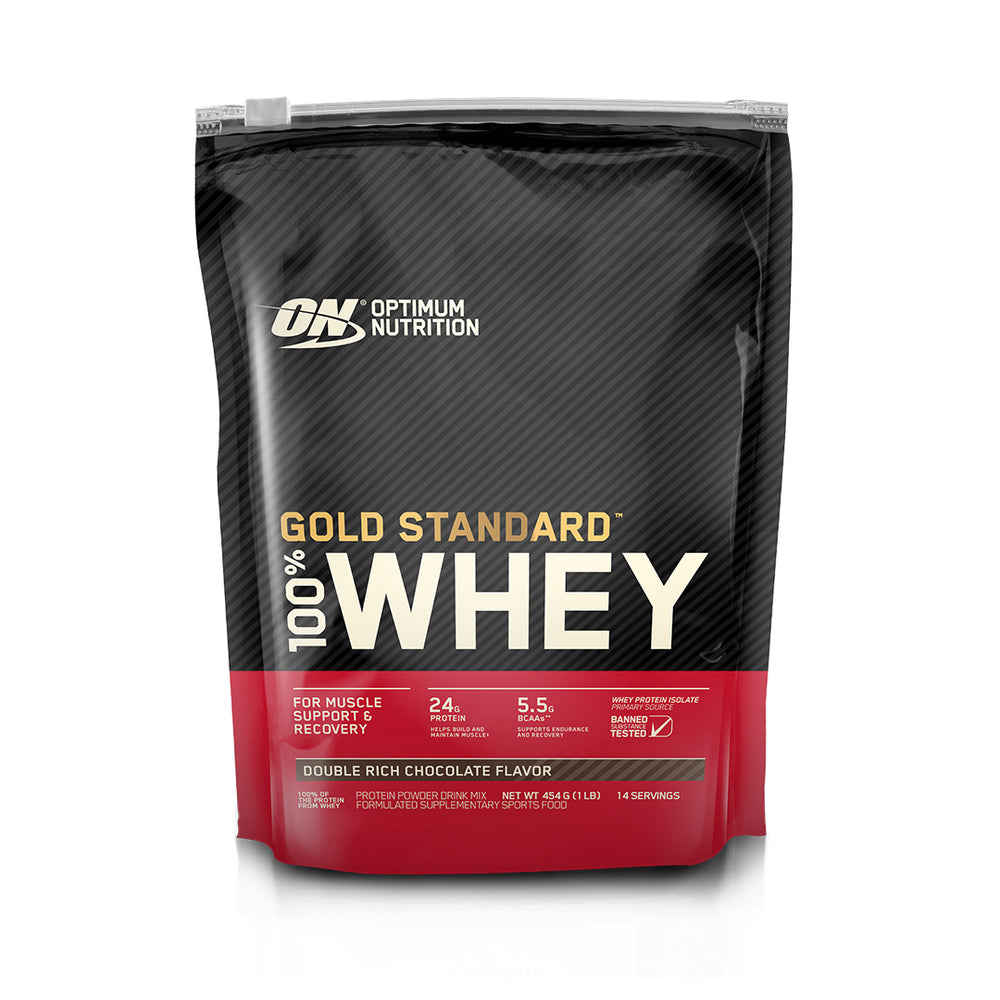 Gold Standard 100% Whey by Optimum Nutrition
Description

Nutritional Information

Directions of Use

Disclaimer
Optimum Nutrition Gold Standard 100% Whey - World #1 Protein Powder
Get the world's best selling protein powder at Supplement Mart today!
For genuine athletes, their workout is more than just physical activity. For them, their gym is more than just a place. Their bicycle is more than just a means of transport. The running track is more than just a street, and every drop of sweat means 100% dedication. Your pupils dilate, your heart rate rises, you may even experience goosebumps, and you know: today you are giving your absolutely EVERYTHING.

For those who are serious about their workout, Optimum Nutrition Gold Standard 100% Whey is just the thing. This potent pharmaceutical grade protein supplement is going to be your new favourite workout partner as it provides your body with everything you need for a massive session. Each serving of Optimum Nutrition Gold Standard 100% Whey delivers only 1 gram of fat and a powerful load of 24 g of high biologically-valued protein, including micro-filtered Whey Protein Isolate, ultra-filtered Whey Protein Concentrate and hydrolysed Whey Peptides. Optimum Nutrition believes that you should only fuel your body with the best, ideally dosed ingredients. This is why Gold Standard 100% Whey has only 3 g of carbohydrates per serving and no fillers or additives, making it an ideal choice for those on low carbohydrate diets.
Banned substance free.
24g protein per serving.
Boosts muscle support & recovery.
Includes fast-acting Hydro-Whey Hydrolysate Protein.
With more than 5 g of naturally occurring BCAA's .
For both men & women.
Not without reason, Gold Standard 100% Whey is one of our most favourite whey protein powders on the market. Even world class athletes such as the IFBB pro Steve Cook choose this legendary whey protein mix to boost their performance. The perfect balance of essential and non-essential amino acids in this formula, including an optimal concentration of branched-chain amino acids (BCAA's) make it stand out from the crowd. As the building blocks of protein, amino acids are vital for muscle growth and recovery. Together with other essential amino acids, BCAA'S increase muscle protein synthesis and therefore boost building muscle. Additionally, BCAA'S help decrease muscle soreness after a tough workout, which usually develops 12 – 24 hours after exercise.
Optimum Nutrition Gold Standard 100% Whey is packed with more than 5 g of naturally occurring BCAA's per serving for maximum workout results. Both men and women in Australia use Optimum Nutrition Gold Standard 100% Whey to ensure their muscles get the nutrients they need after strenuous exercise. Buying Gold Standard 100% Whey by Optimum Nutrition means saying "no" to banned substances, choosing quality ingredients, appreciating an excellent nutritional profile and trusting one of the world's most well-known supplement brands as well as your #1 supplement online store! If you're looking to get that extra protein kick, assist lean muscle and boost recovery, order Gold Standard 100% Whey today – you won't be disappointed!
(Based on 5lb Banana Cream flavour)
Spoon Stirred: Gold Standard 100% Whey is instantized. That means if you forgot your shaker cup or don't have time to get out the blender, you can just add one rounded scoop of Gold Standard 100% Whey™ to a glass filled with 177-236mL of water or your favourite beverage. Then mix it up with a spoon. Stir for about 20 seconds or until powder is completely dissolved.  TIP: Adjust the intensity of your Gold Standard 100% Whey™ by varying the amount of liquid that you use to prepare it. For a bolder flavor with slightly more body and sweetness, mix each scoop with 118-177mL of water, milk, or your favorite beverage. For a milder tasting, less sweet shake, use 236-295mL of liquid per scoop.
Shaker: Bringing a shaker cup with you to the gym is the best way to get a powerful dose of protein immediately after your workout. Just pour in 177-236mL of your preferred beverage and then add one rounded scoop of Gold Standard 100% Whey™ to your shaker cup. Cover and shake for 25-30 seconds.
Blender: Add one rounded scoop of Gold Standard 100% Whey™ to a blender filled with 177-236mL of water, nonfat milk, or your favorite beverage. Blend for 20-30 seconds. Then add 1 or 2 ice cubes and blend for an additional 30 seconds.
Shake up your Shake: By adding fresh or frozen fruits, peanut butter, flaxseed oil, coconut and other high-energy ingredients, you can transform your shake into a delicious high-protein meal. Stack your Shake: You can make Gold Standard 100% Whey™ an even more powerful recovery product by adding supplements like creatine, glutamine, BCAA, and concentrated carbohydrate powders.
Think outside the glass: Gold Standard 100% Whey™ can be used for more than just protein shakes. Try mixing a scoop into oatmeal, yogurt, or the milk that you pour over your morning breakfast cereal. Better yet, boost the protein content of muffins, cookies, brownies, etc. by adding a scoop or two to your baked goods recipes.
Suggested Use: Consume approximately 1 gram of protein per pound of body weight per day through a combination of high protein foods and protein supplements. For even better results, consume your daily protein allotment over several small meals spread evenly throughout the day.
Always read the label. Follow directions of use. Please read the label to decide whether this product is right for you.

Consult with your relevant healthcare professional before taking supplements or vitamins, especially if you are currently taking medication. If symptoms transpire and persist, seek immediate advice from your relevant healthcare professional.

If pregnant, planning pregnancy, or breastfeeding, consult with your healthcare professional before using any health foods, functional foods, supplements or vitamins.

Supplements and vitamins should not be used by persons under the age of 16, unless the product is specifically designed for children or otherwise advised on by your healthcare professional.

Supplements, vitamins and minerals should never replace a balanced and varied diet.

Keep all supplements and vitamins out of reach of children. Always follow advised storage conditions and consumption instructions.

Do not exceed recommended daily dosage. Do not consume products if seals are broken or damaged. Do not consume products if best before or expiry dates have exceeded.

Some powdered products, including (but are not limited to) pre-workout, fat burners, single amino acids, pump/nitric oxide boosters, citrulline, agmatine, arginine and carnitine are naturally deliquescent products, or contain ingredients which are naturally deliquescent. Clumping or hardening of these products over time is a natural and common occurrence, and despite containing moisture absorption sachets, these products may still clump or harden over time.

Although extra care is taken to ensure all product Descriptive Information, Nutritional Information and Directions Of Use are kept up-to-date and current, manufacturers and suppliers may change product formulations and ingredients without warning, and may not advise of us these changes. Please ensure Supplement Mart endeavors to keep products updated with the latest and correct product information which the manufacturer or supplier has directly provided us.

If you are purchasing items which are prone to melting (including but not limited to, chocolate bars, protein bars, items with chocolate chips or pieces etc), or items which can easily be damaged (including but not limited to, chips, aluminum cans, glass vitamins etc), we strongly recommend you purchase Shipping Insurance with your order. Supplement Mart takes no responsibility for items which are melted or damaged in transit, and we do not replace or refund any items which are damaged under these circumstances if they are not covered by Shipping Insurance. You can purchase Shipping Insurance at the cart/checkout page with your order.

We also strongly recommend to not authorize "Authority to Leave" on your order if it contains items which can melt, due to the risk of these items being left in an unsuitably warm and sunny position by the courier.

Purchase of clearance and special items is final, we do not offer exchanges or refunds on these items.