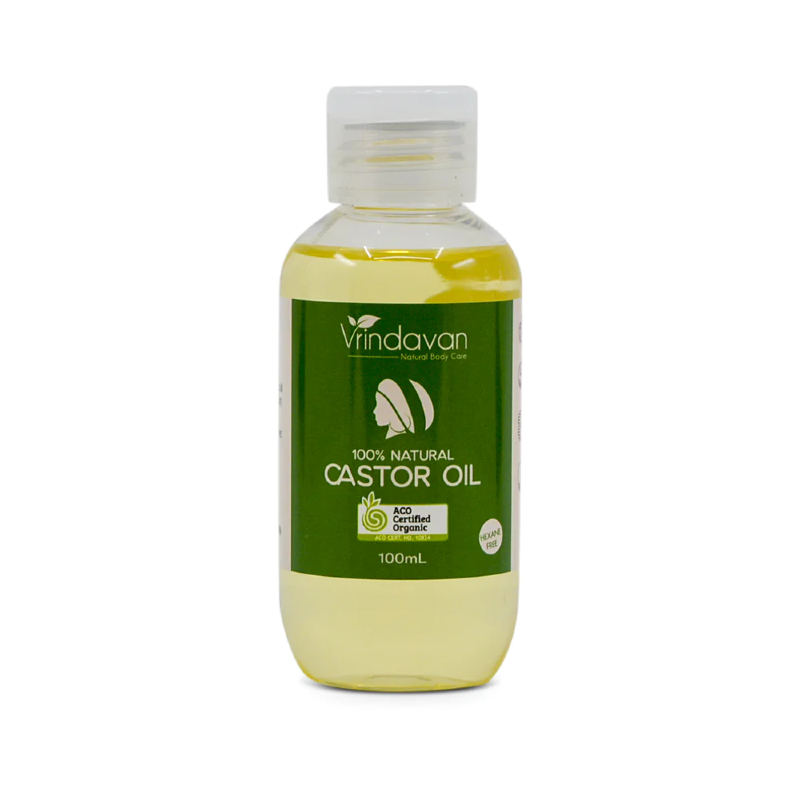 Organic Castor Oil by Vrindavan
Description

Ingredients

Directions of Use

Disclaimer
Organic Castor Oil by Vrindavan
Vrindavan Body Care's Castor Oil - your ultimate natural solution for achieving radiant skin and lustrous hair. Derived from the purest castor bean seeds, our castor oil is meticulously crafted to provide you with a colourless, odourless, cold-pressed, and hexane-free elixir of beauty. With a rich history dating back centuries, castor oil is celebrated for its versatile benefits in skincare and hair care.
Vrindavan Castor Oil can have profound benefits both on your skin and hair:
Moisturizes the skin to keep it supple.

Reduces the appearance of wrinkles.

Providing the minerals essential to grow strong hair.

Supplying omega-6 essential fatty acids for healthy hair.
For your skin, Vrindavan Castor Oil is a game-changer. It's your go-to remedy for dry, irritated skin, offering a soothing touch that leaves your skin feeling soft and revitalized. Not only does it quench parched skin, but it also boasts impressive pathogen-fighting properties, making it a potent ally against skin issues. Packed with a treasure trove of minerals, vitamins, and essential fatty acids, this oil not only moisturizes but nourishes, ensuring your skin stays in peak health. When it comes to your hair, Vrindavan Castor Oil is a true miracle worker. It stimulates blood circulation in the scalp, promoting hair growth and banishing dry, flaky, and itchy skin that can hinder healthy hair. The oil's deep moisturizing action penetrates hair shafts, locking in essential moisture, and its abundance of essential fatty acids provides vital nourishment to the roots. It's no wonder that castor oil is a beloved hair treatment worldwide, helping you achieve the strong, shiny locks you've always dreamed of. Unlock the secret to beautiful skin and hair with Vrindavan Body Care's Castor Oil - a natural treasure that's gentle, effective, and oh-so-indulgent.
Ingredients:
Certified Organic Cold Pressed Ricinus Communis (Castor) Seed Oil.
Topical Usage for Hair and Skin:
Apply directly to area of skin and massage in.

Can be applied to scalp, face, eyebrows/eyelashes. 

Can be used to soothe problematic skin conditions such as dandruff. 

Perform a test patch first before usage of product. 
Discontinue use if irritation occurs and symptoms persist. Seek healthcare advice.
Constipation Relief:
Mix 15ml into warm water and consume.

Warning - castor oil has a laxative effect. Ensure sufficient fluids are being consumed and discontinue use immediately and seek healthcare advice if symptoms persist. 
Always read the label. Follow directions of use. Please read the label to decide whether this product is right for you.

Consult with your relevant healthcare professional before taking supplements or vitamins, especially if you are currently taking medication. If symptoms transpire and persist, seek immediate advice from your relevant healthcare professional.

If pregnant, planning pregnancy, or breastfeeding, consult with your healthcare professional before using any health foods, functional foods, supplements or vitamins.

Supplements and vitamins should not be used by persons under the age of 16, unless the product is specifically designed for children or otherwise advised on by your healthcare professional.

Supplements, vitamins and minerals should never replace a balanced and varied diet.

Keep all supplements and vitamins out of reach of children. Always follow advised storage conditions and consumption instructions.

Do not exceed recommended daily dosage. Do not consume products if seals are broken or damaged. Do not consume products if best before or expiry dates have exceeded.

Some powdered products, including (but are not limited to) pre-workout, fat burners, single amino acids, pump/nitric oxide boosters, citrulline, agmatine, arginine and carnitine are naturally deliquescent products, or contain ingredients which are naturally deliquescent. Clumping or hardening of these products over time is a natural and common occurrence, and despite containing moisture absorption sachets, these products may still clump or harden over time.

Although extra care is taken to ensure all product Descriptive Information, Nutritional Information and Directions Of Use are kept up-to-date and current, manufacturers and suppliers may change product formulations and ingredients without warning, and may not advise of us these changes. Please ensure Supplement Mart endeavors to keep products updated with the latest and correct product information which the manufacturer or supplier has directly provided us.

If you are purchasing items which are prone to melting (including but not limited to, chocolate bars, protein bars, items with chocolate chips or pieces etc), or items which can easily be damaged (including but not limited to, chips, aluminum cans, glass vitamins etc), we strongly recommend you purchase Shipping Insurance with your order. Supplement Mart takes no responsibility for items which are melted or damaged in transit, and we do not replace or refund any items which are damaged under these circumstances if they are not covered by Shipping Insurance. You can purchase Shipping Insurance at the cart/checkout page with your order.

We also strongly recommend to not authorize "Authority to Leave" on your order if it contains items which can melt, due to the risk of these items being left in an unsuitably warm and sunny position by the courier.

Purchase of clearance and special items is final, we do not offer exchanges or refunds on these items.