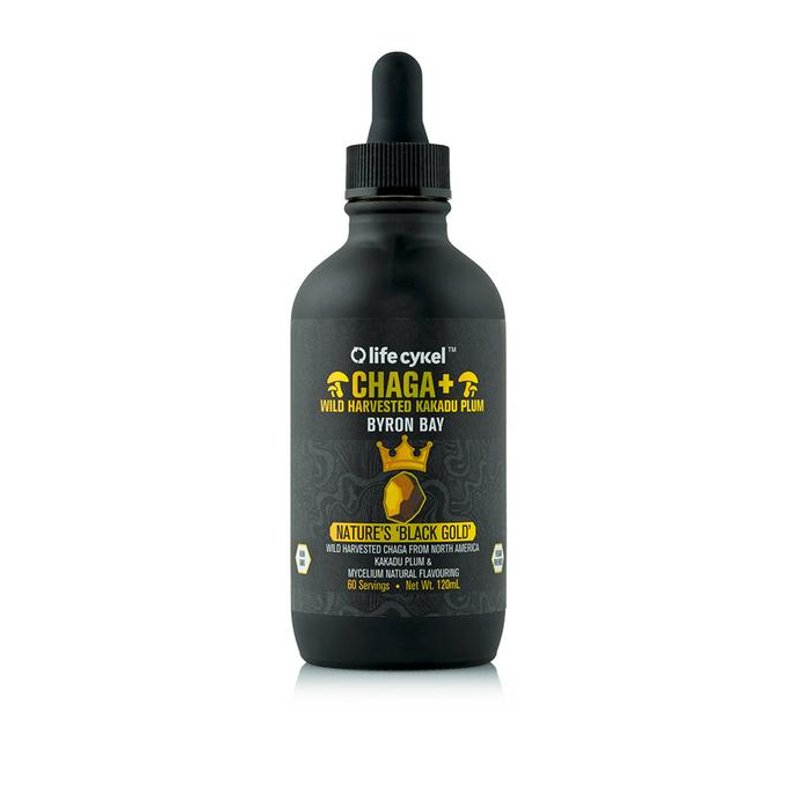 Chaga Double Extract Mushroom Flavouring by Life Cykel
Description

Nutritional Information

Directions of Use

Disclaimer
Life Cykel Chaga Double Extract Mushroom Flavouring
You may know Chaga Mushroom as some other names, such as "Diamond of the forest", "Nature's black gold", "the gift from god"... just a few alias that Chaga goes by. Chaga is one of the most highly regarded mushrooms and has been used in many traditional ways in Baltic countries for hundreds and hundrends of years. Chaga thrives in colder climates in the Northern Hemisphere and grows as a black hardened mass, exclusively on Birch trees. However, inside the Chaga mushroom, it boasts a beautiful deep golden colour - hence the name Black Gold. Chaga is thought to have the highest antioxidant capacity of any functional mushroom and contains many bioactive compounds such as inotodiol and betulin.
Wild harvested Chaga.
Full spectrum.
GMO free.
Gluten free.
Life Cykel Double Liquid Extract Mushroom Flavourings are alcohol based and engineered in Australia and USA using a unique double extraction process. They are full spectrum which means that both the mushroom fruiting bodies and the mycelium in the extraction process to create a well-rounded, high quality product. All Life Cykel Double Liquid Extract Flavourings are infused with Australian native Kakadu Plum, known to have the highest content of vitamin C gram for gram than any other fruit in the world.
Ingredients:
Filtered Water, Alcohol (20-24% v/v), Mushroom Flavour: Wild Harvested Dried Chaga (Inonotus obliquus) Sclerotia, Kakadu Plum Natural Flavour.
Directions: Add your liquid double extracts directly to your coffee, smoothie, tea or water.
Serving Size: 2 ml - 1/2 a dropper full is approximately 1ml, you can use this as a guide for the recommended serving size.
Storage: Store in a cool, dry place.
Always read the label. Follow directions of use. Please read the label to decide whether this product is right for you.

Consult with your relevant healthcare professional before taking supplements or vitamins, especially if you are currently taking medication. If symptoms transpire and persist, seek immediate advice from your relevant healthcare professional.

If pregnant, planning pregnancy, or breastfeeding, consult with your healthcare professional before using any health foods, functional foods, supplements or vitamins.

Supplements and vitamins should not be used by persons under the age of 16, unless the product is specifically designed for children or otherwise advised on by your healthcare professional.

Supplements, vitamins and minerals should never replace a balanced and varied diet.

Keep all supplements and vitamins out of reach of children. Always follow advised storage conditions and consumption instructions.

Do not exceed recommended daily dosage. Do not consume products if seals are broken or damaged. Do not consume products if best before or expiry dates have exceeded.

Some powdered products, including (but are not limited to) pre-workout, fat burners, single amino acids, pump/nitric oxide boosters, citrulline, agmatine, arginine and carnitine are naturally deliquescent products, or contain ingredients which are naturally deliquescent. Clumping or hardening of these products over time is a natural and common occurrence, and despite containing moisture absorption sachets, these products may still clump or harden over time.

Although extra care is taken to ensure all product Descriptive Information, Nutritional Information and Directions Of Use are kept up-to-date and current, manufacturers and suppliers may change product formulations and ingredients without warning, and may not advise of us these changes. Please ensure Supplement Mart endeavors to keep products updated with the latest and correct product information which the manufacturer or supplier has directly provided us.

If you are purchasing items which are prone to melting (including but not limited to, chocolate bars, protein bars, items with chocolate chips or pieces etc), or items which can easily be damaged (including but not limited to, chips, aluminum cans, glass vitamins etc), we strongly recommend you purchase Shipping Insurance with your order. Supplement Mart takes no responsibility for items which are melted or damaged in transit, and we do not replace or refund any items which are damaged under these circumstances if they are not covered by Shipping Insurance. You can purchase Shipping Insurance at the cart/checkout page with your order.

We also strongly recommend to not authorize "Authority to Leave" on your order if it contains items which can melt, due to the risk of these items being left in an unsuitably warm and sunny position by the courier.

Purchase of clearance and special items is final, we do not offer exchanges or refunds on these items.