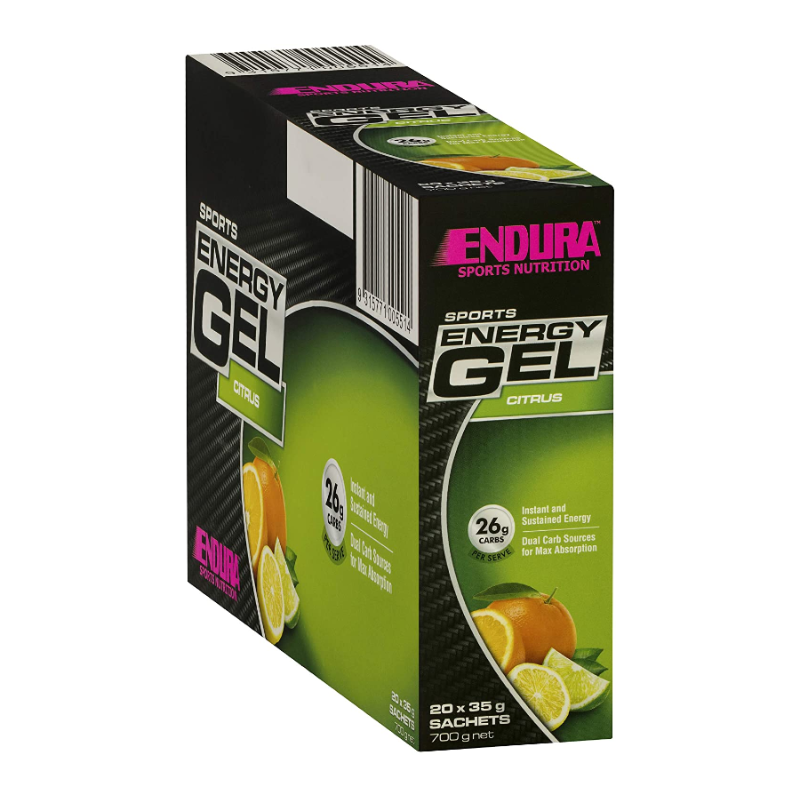 Sports Energy Gels by Endura
Description

Nutritional Information

Directions of Use

Disclaimer
Endura Sports Energy Gels - For the athlete on the move
Endura Sports Energy Gels are a handy and convenient sachet packed full of the right ingredients to keep you going, even through your toughest and longest workouts. Endura Sports Energy Gels are a concentrated energy source, providing your body with a potent shot of carbohydrates, electrolytes and caffeine, to boost your energy and endurance, and facilitate hydration. Don't sacrifice your peak performance potential, carry these sachets with you anywhere you go – each gel is lightweight and compact, and will easily fit in your pocket. These sachets are ideal for those who partake in longer and intensive workouts, including marathons and triathlons, long-distance cycling, team sports or extensive weight training sessions, and are personally used by professional athletes like 15x IronMan Champion Shannon Eckstein and Olympian Craig Mottram.
Each Endura Sports Energy Gel sachet contains:
Dual carbohydrate system: 26g of carbohydrates is provided in each gel, to assist your body in replenishing and sustaining glycogen levels. This dual carbohydrate blend will provide both a rapid, fast absorbing hit of energy, and a slower release carbohydrate for sustained energy and endurance.
Electrolyte Formulation: Assist in replenishing those precious electrolytes which can be lost during strenuous activity. Each sachet contains essential electrolytes potassium and sodium, which are both required for many cellular processes in the body.
Caffeine: A small dose of caffeine to keep your energized, alert and focused, without packing too much of a punch or inducing a crash.
Endura Sports Energy Gels are ideally consumed during or around your workout. Ideally, one sachet can be consumed within 15 minutes prior to exercise, during exercise at 30 minute intervals, and immediately on cessation of exercise. Consume each Endura Sports Energy Gel with at least 250ml of water (either immediately, or over a 10-20 minute period upon consumption), to ensure your body is appropriately hydrated. Endura Sports Energy Gels are available in a wide variety of flavours as well to suit any taste. Don't compromise your peak physical output during your next workout or event, ensure you have Endura Sports Energy Gels on your side!
For best results, consume one 35 g serve (one sachet, 11/3 tablespoons or 26.4 mL):
• 15 mins prior to exercise.
• Every 30 mins during with fluid.
• Directly after exercise.
Always read the label. Follow directions of use. Please read the label to decide whether this product is right for you.

Consult with your relevant healthcare professional before taking supplements or vitamins, especially if you are currently taking medication. If symptoms transpire and persist, seek immediate advice from your relevant healthcare professional.

If pregnant, planning pregnancy, or breastfeeding, consult with your healthcare professional before using any health foods, functional foods, supplements or vitamins.

Supplements and vitamins should not be used by persons under the age of 16, unless the product is specifically designed for children or otherwise advised on by your healthcare professional.

Supplements, vitamins and minerals should never replace a balanced and varied diet.

Keep all supplements and vitamins out of reach of children. Always follow advised storage conditions and consumption instructions.

Do not exceed recommended daily dosage. Do not consume products if seals are broken or damaged. Do not consume products if best before or expiry dates have exceeded.

Some powdered products, including (but are not limited to) pre-workout, fat burners, single amino acids, pump/nitric oxide boosters, citrulline, agmatine, arginine and carnitine are naturally deliquescent products, or contain ingredients which are naturally deliquescent. Clumping or hardening of these products over time is a natural and common occurrence, and despite containing moisture absorption sachets, these products may still clump or harden over time.

Although extra care is taken to ensure all product Descriptive Information, Nutritional Information and Directions Of Use are kept up-to-date and current, manufacturers and suppliers may change product formulations and ingredients without warning, and may not advise of us these changes. Please ensure Supplement Mart endeavors to keep products updated with the latest and correct product information which the manufacturer or supplier has directly provided us.

If you are purchasing items which are prone to melting (including but not limited to, chocolate bars, protein bars, items with chocolate chips or pieces etc), or items which can easily be damaged (including but not limited to, chips, aluminum cans, glass vitamins etc), we strongly recommend you purchase Shipping Insurance with your order. Supplement Mart takes no responsibility for items which are melted or damaged in transit, and we do not replace or refund any items which are damaged under these circumstances if they are not covered by Shipping Insurance. You can purchase Shipping Insurance at the cart/checkout page with your order.

We also strongly recommend to not authorize "Authority to Leave" on your order if it contains items which can melt, due to the risk of these items being left in an unsuitably warm and sunny position by the courier.

Purchase of clearance and special items is final, we do not offer exchanges or refunds on these items.