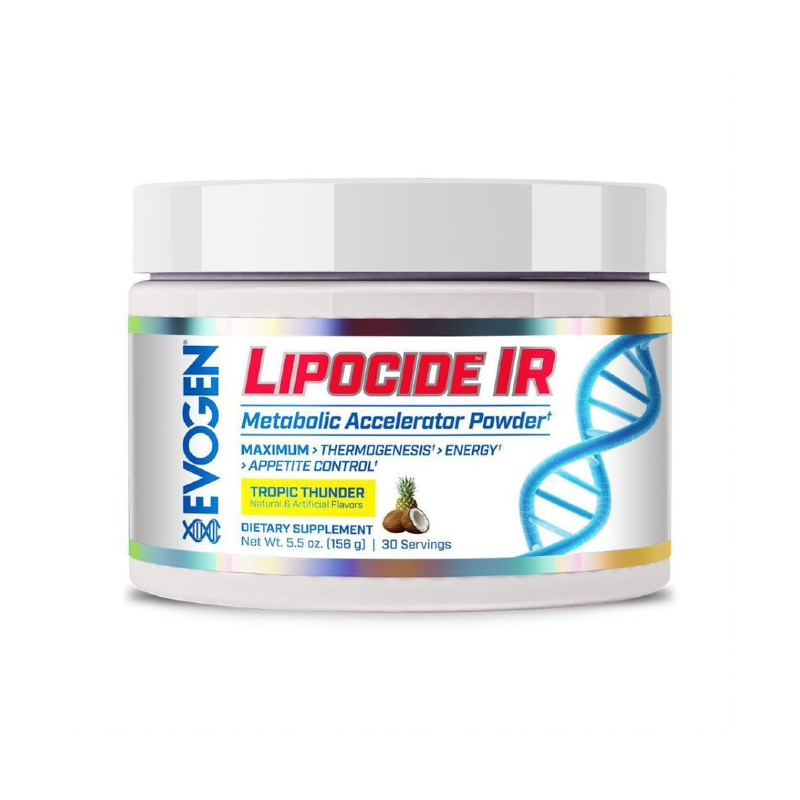 Description

Nutritional Information

Directions of Use

Disclaimer
Evogen Lipocide IR
It is an art not a skill to burn fat while maintaining that hard-earned muscle. Rather than spending years figuring out this process trust 20X Olympia Champion Coach, The Pro Creator® Hany Rambod to deliver a fat-burning formula that can help you shape your best physique. Alongside diet and exercise, Lipocide IR by Ecogen can help you reach your physique goals.
The goal which so many athletes have trouble achieving is finding the correct balance between increasing metabolic rate and controlling appetite enough to preserve muscle mass while blasting away fat away. There's a reason why multiple physique champions trust Hany, and it's because he understands this balance.
It is the years of research and practical application in physique remodelling that have led to the evolution of one of Hany's best-kept secrets, Lipocide, and now Lipocide IR (Instant Release) powder. This real-world tested formulation has been the "go-to" tool to get the best in the world shredded and dialled in. By curbing the appetite, accelerating your metabolism, and pushing your mental drive for hours, Lipocide IR is part of a complete weight loss solution.
Lipocide IR by Evogen contains key fat-burning ingredients including:
L-Tyrosine can support the production of thyroid hormones to speed up your metabolism. Evidence suggests that when taken in combination with other fat-burning substances, such as caffeine and capsaicin, l-tyrosine is even more effective for achieving weight loss





Caffeine is a well known and tested ingredient that can help increase metabolic rate and fat burning. It can also help promote alertness and suppress appetite.





Patented Lipocide Thermo-Focus Matrix containing several fat burning and mind stimulating ingredients including DMAE and Yohimbe.
Lucky for you, Hany has finally yielded to the demands of the dedicated customers of Evogen Nutrition and released his Pro Creator quality tool to get you shredded. It's up to you to take the next step towards the all-new metabolic accelerator that Team Evogen has proudly embraced and has helped Hany achieve Olympia titles.
As a dietary supplement begin by taking half of a serving (1/2 scoop) mixed with 10-12 fluid oz. of cold water in the morning on an empty stomach 20-30 minutes prior to your first meal or protein shake. From there, find your own personal tolerance.

Do not use product for longer than 4 weeks followed by a subsequent 4-week break. Read the entire label before use and follow the directions provided. refrigerate after opening.
Always read the label. Follow directions of use. Please read the label to decide whether this product is right for you.

Consult with your relevant healthcare professional before taking supplements or vitamins, especially if you are currently taking medication. If symptoms transpire and persist, seek immediate advice from your relevant healthcare professional.

If pregnant, planning pregnancy, or breastfeeding, consult with your healthcare professional before using any health foods, functional foods, supplements or vitamins.

Supplements and vitamins should not be used by persons under the age of 16, unless the product is specifically designed for children or otherwise advised on by your healthcare professional.

Supplements, vitamins and minerals should never replace a balanced and varied diet.

Keep all supplements and vitamins out of reach of children. Always follow advised storage conditions and consumption instructions.

Do not exceed recommended daily dosage. Do not consume products if seals are broken or damaged. Do not consume products if best before or expiry dates have exceeded.

Some powdered products, including (but are not limited to) pre-workout, fat burners, single amino acids, pump/nitric oxide boosters, citrulline, agmatine, arginine and carnitine are naturally deliquescent products, or contain ingredients which are naturally deliquescent. Clumping or hardening of these products over time is a natural and common occurrence, and despite containing moisture absorption sachets, these products may still clump or harden over time.

Although extra care is taken to ensure all product Descriptive Information, Nutritional Information and Directions Of Use are kept up-to-date and current, manufacturers and suppliers may change product formulations and ingredients without warning, and may not advise of us these changes. Please ensure Supplement Mart endeavors to keep products updated with the latest and correct product information which the manufacturer or supplier has directly provided us.

If you are purchasing items which are prone to melting (including but not limited to, chocolate bars, protein bars, items with chocolate chips or pieces etc), or items which can easily be damaged (including but not limited to, chips, aluminum cans, glass vitamins etc), we strongly recommend you purchase Shipping Insurance with your order. Supplement Mart takes no responsibility for items which are melted or damaged in transit, and we do not replace or refund any items which are damaged under these circumstances if they are not covered by Shipping Insurance. You can purchase Shipping Insurance at the cart/checkout page with your order.

We also strongly recommend to not authorize "Authority to Leave" on your order if it contains items which can melt, due to the risk of these items being left in an unsuitably warm and sunny position by the courier.

Purchase of clearance and special items is final, we do not offer exchanges or refunds on these items.