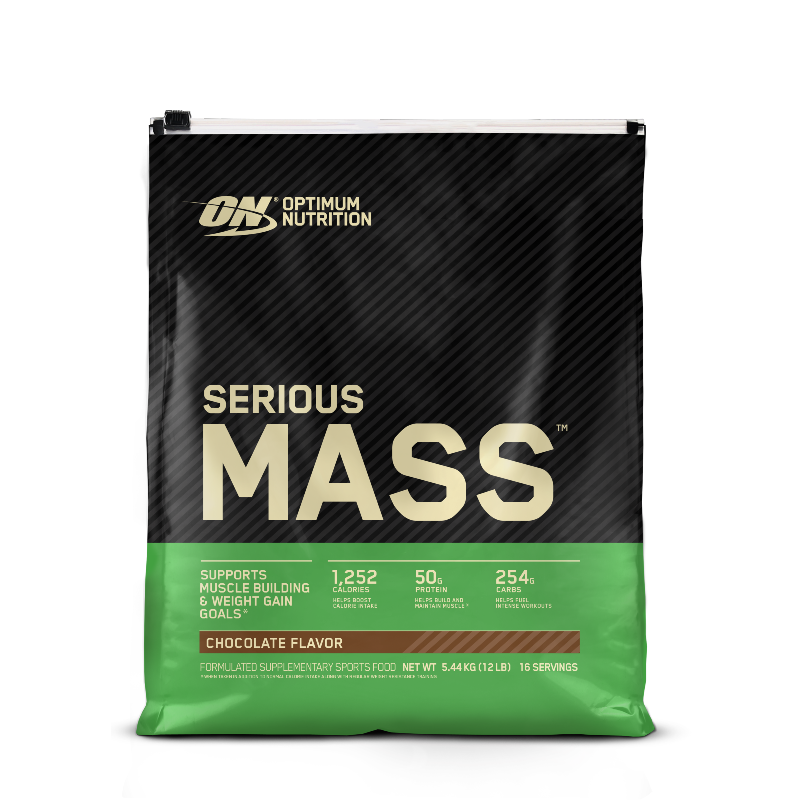 Serious Mass by Optimum Nutrition
Description

Nutritional Information

Directions of Use

Disclaimer
Optimum Nutrition Serious Mass
Some people would give anything to have a fast metabolism, but for you, as a weight lifter, it is stopping you from reaching your goals? Putting on quality weight isn't as simple as consuming a massive load of fast-food every day. If you think you're ready for the ultimate bulk season, consider Optimum Nutrition Serious Mass! Optimum Nutrition Serious Mass is for those who want a delicious, high-protein weight gain powder to maximise their workout. This powerhouse contains 1250 calories from 50 g of protein and more than 250 grams of carbohydrates – everything you need to build big muscle. This formula is so sophisticated that it didn't need sugar at all to make it perfect. Instead, creatine and glutamine, as well as 25 minerals and vitamins, have been added. Each serving contains high-value protein, including Whey Protein Concentrate, Calcium Caseinate, Egg Albumen and Sweet Dairy Whey to boost your muscle growth as well as your performance.
High-potent weight gainer.
Muscle mass gains.
High-value protein.
1250 calories per serve.
Complete meal replacement with 25 vitamins & minerals.
Optimum Nutrition Serious Mass's protein blend provides easy-to-digest protein, boosting your muscle protein synthesis and providing quick protein for a more intense workout and better recovery. Whey protein concentrate is a high-quality, medium-digesting and absorption protein that is highly bioactive and has an optimal muscle amino acid content. It contains all the amino acids your body needs to function properly and build muscle. Furthermore, it contains enzymes that increase glutathione, which is your body's strongest antioxidant.
Calcium caseinate is also a very slow absorbing and gradually digesting high-quality milk protein that can help athletes and bodybuilders prevent the breakdown of muscle proteins. In conjunction with a balanced diet and exercise, it can help maintain, restore, and build muscle mass. Calcium caseinate can be incredibly beneficial to those concerned with fitness and exercise. Egg albumen is very rich in protein and amino acids like arginine, isoleucine, histidine, leucine, methionine, lysine, threonine, phenylalanine, tryptophan, and valine. What makes Egg albumen special is its content of nutrients like folic acid, vitamin A, vitamin D, B vitamins and secondary plant products. Creatine monohydrate, choline, glutamine and inositol have also been added to this formula as these essential micronutrients are very important for anabolic activity. Get ready for intense gym sessions and gain serious muscle mass – with Optimum Nutrition Serious Mass!
(Based on 12lb Chocolate flavour)
Consume 1 scoop (25g) or 2 scoops (50g) of with approximately 475ml-500ml of chilled water or milk. Shake until completely dissolved and consume immediately.
Due to this being a weight gaining supplement ensure there is adequate space in the shaker cup to allow the powder to dissolve properly when shaken.
If 2 scoops is too large of a serving, consume 1 scoop, twice a day.
Always read the label. Follow directions of use. Please read the label to decide whether this product is right for you.

Consult with your relevant healthcare professional before taking supplements or vitamins, especially if you are currently taking medication. If symptoms transpire and persist, seek immediate advice from your relevant healthcare professional.

If pregnant, planning pregnancy, or breastfeeding, consult with your healthcare professional before using any health foods, functional foods, supplements or vitamins.

Supplements and vitamins should not be used by persons under the age of 16, unless the product is specifically designed for children or otherwise advised on by your healthcare professional.

Supplements, vitamins and minerals should never replace a balanced and varied diet.

Keep all supplements and vitamins out of reach of children. Always follow advised storage conditions and consumption instructions.

Do not exceed recommended daily dosage. Do not consume products if seals are broken or damaged. Do not consume products if best before or expiry dates have exceeded.

Some powdered products, including (but are not limited to) pre-workout, fat burners, single amino acids, pump/nitric oxide boosters, citrulline, agmatine, arginine and carnitine are naturally deliquescent products, or contain ingredients which are naturally deliquescent. Clumping or hardening of these products over time is a natural and common occurrence, and despite containing moisture absorption sachets, these products may still clump or harden over time.

Although extra care is taken to ensure all product Descriptive Information, Nutritional Information and Directions Of Use are kept up-to-date and current, manufacturers and suppliers may change product formulations and ingredients without warning, and may not advise of us these changes. Please ensure Supplement Mart endeavors to keep products updated with the latest and correct product information which the manufacturer or supplier has directly provided us.

If you are purchasing items which are prone to melting (including but not limited to, chocolate bars, protein bars, items with chocolate chips or pieces etc), or items which can easily be damaged (including but not limited to, chips, aluminum cans, glass vitamins etc), we strongly recommend you purchase Shipping Insurance with your order. Supplement Mart takes no responsibility for items which are melted or damaged in transit, and we do not replace or refund any items which are damaged under these circumstances if they are not covered by Shipping Insurance. You can purchase Shipping Insurance at the cart/checkout page with your order.

We also strongly recommend to not authorize "Authority to Leave" on your order if it contains items which can melt, due to the risk of these items being left in an unsuitably warm and sunny position by the courier.

Purchase of clearance and special items is final, we do not offer exchanges or refunds on these items.