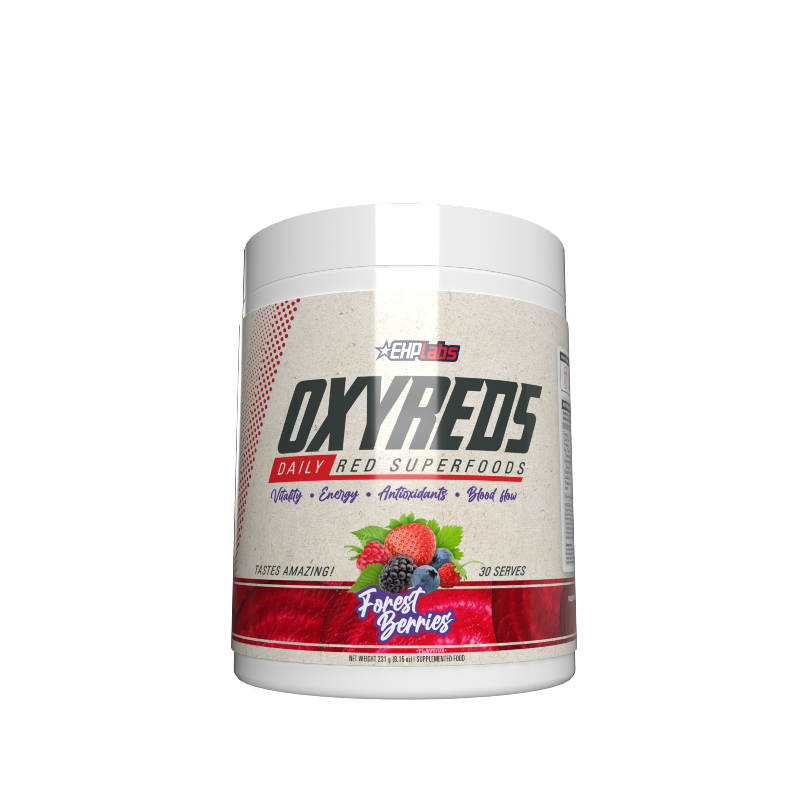 Description

Nutritional Information

Directions of Use

Disclaimer
EHP Labs OxyReds
EHP Labs understands that true well-being starts from within, and that's why OxyReds is more than just a supplement—it's a journey towards holistic harmony. Their specially curated blend is a symphony of digestive goodness, featuring the natural digestive enzyme papaya for enhanced nutrient absorption. Picture your body as a well-tuned instrument, each nutrient playing a vital note to create a melody of health and vitality. EHP Labs' carefully crafted formulation of reds has been designed to nourish and support from within and may assist with:
Boost natural energy.

Increase vitality & blood flow.

Digestive and immune support.
But they don't stop there. EHP Labs OxyReds goes beyond the ordinary by incorporating prebiotic fibre from inulin, larch, and red apple pectin. These fibres act as the conductors, fostering a robust and thriving gut ecosystem. A flourishing gut isn't just about digestive comfort; it's the cornerstone of overall well-being. It's about supporting your body's natural processes, ensuring that you absorb the goodness from every nutrient you consume. Our commitment to digestive health culminates in EHPLabs Super Cleanse Reds Powder, where we introduce probiotics and additional fibre supplements. This dynamic duo works in tandem to promote peak digestive health. With EHPLabs, you're not just nourishing your body; you're cultivating an internal environment where vitality thrives, and well-being becomes a way of life. Join us on this transformative journey, and let your inner harmony resonate with the vibrancy of life.
(Based on Forest Berries)
Mix 1 serving with 350ml of cold water in a shaker and consume immediately. It is recommended that OxyReds are consumed after a meal.

For best results accompany with OxyGreens for a complete wellness routine.
Always read the label. Follow directions of use. Please read the label to decide whether this product is right for you.

Consult with your relevant healthcare professional before taking supplements or vitamins, especially if you are currently taking medication. If symptoms transpire and persist, seek immediate advice from your relevant healthcare professional.

If pregnant, planning pregnancy, or breastfeeding, consult with your healthcare professional before using any health foods, functional foods, supplements or vitamins.

Supplements and vitamins should not be used by persons under the age of 16, unless the product is specifically designed for children or otherwise advised on by your healthcare professional.

Supplements, vitamins and minerals should never replace a balanced and varied diet.

Keep all supplements and vitamins out of reach of children. Always follow advised storage conditions and consumption instructions.

Do not exceed recommended daily dosage. Do not consume products if seals are broken or damaged. Do not consume products if best before or expiry dates have exceeded.

Some powdered products, including (but are not limited to) pre-workout, fat burners, single amino acids, pump/nitric oxide boosters, citrulline, agmatine, arginine and carnitine are naturally deliquescent products, or contain ingredients which are naturally deliquescent. Clumping or hardening of these products over time is a natural and common occurrence, and despite containing moisture absorption sachets, these products may still clump or harden over time.

Although extra care is taken to ensure all product Descriptive Information, Nutritional Information and Directions Of Use are kept up-to-date and current, manufacturers and suppliers may change product formulations and ingredients without warning, and may not advise of us these changes. Please ensure Supplement Mart endeavors to keep products updated with the latest and correct product information which the manufacturer or supplier has directly provided us.

If you are purchasing items which are prone to melting (including but not limited to, chocolate bars, protein bars, items with chocolate chips or pieces etc), or items which can easily be damaged (including but not limited to, chips, aluminum cans, glass vitamins etc), we strongly recommend you purchase Shipping Insurance with your order. Supplement Mart takes no responsibility for items which are melted or damaged in transit, and we do not replace or refund any items which are damaged under these circumstances if they are not covered by Shipping Insurance. You can purchase Shipping Insurance at the cart/checkout page with your order.

We also strongly recommend to not authorize "Authority to Leave" on your order if it contains items which can melt, due to the risk of these items being left in an unsuitably warm and sunny position by the courier.

Purchase of clearance and special items is final, we do not offer exchanges or refunds on these items.